MyLeadPod is a professional Cash Reward Platform for individuals and businesses to send and receive leads. Our process is simple and easy, enabling any business to create their own Cash Referral Reward Program.
Do you have a Reward Code?
Everyone benefits from MyLeadPod.

Individuals
MyLeadPod makes it easy to send a lead to any business registered on our platform! Simply download the app, register for free and start sending successful leads to earn cash!
Businesses
MyLeadPod gives businesses tools to limitlessly market their Cash Rewards Program and grow their referral base, which will result in a larger potential client base for the business.
(paid account)
Communities
MyLeadPod gives local clubs and Charitable Organisations in your community the opportunity to support their sponsors and earn much needed funds through Referral Rewards and Digital Sponsorship
Reach Referrers & New Clients
Advertise and grow your business with your own custom-designed Cash Reward Cards
Front Title
This is the content for the front of your Card. You can put anything you like here! Make sure it's something not too long though. As Shakespeare once said, "Brevity is the soul of wit."
Back Title
This is the content for the back of your Card.
(click the card to reveal the backside!)
Some Of Our Current Subscribers
See who's joined us lately.
I have been using MyLeadpod for quite sometime and its makes it very easy to reward Nova smash repairs customers for referring clients .It allows me to keep track of all my leads so no leads slip through without going unrewarded. I highly recommend MyLeadPod to any business or person who would like to grow their business and reward people for helping them achieve increased sales.

Sal Martino


February 25, 2020

I recently joined My Lead Pod and was blown away on how quick it worked. within 4 hours i received a refferal and a significant one in fact. within a week i received 5 more. i was barely on it and was getting slammed left right and centre. I decided to put some time into it and refer to see how i get rewarded. That week i made $400 in referral fees and cashed out straight away. not long after the money was in my account. getting referrals and receiving cash for referring is the way to do business and this works. i am now asking my referral partners to use My Lead Pod just for the convenience of tracking who gives what and because once you pay someone it sends you a tax invoice. bookkeepers are going to love it. highly recommend.

Robbie Gianoncelli


September 10, 2018
Send Leads.

Send a successful lead to businesses and enjoy Cash Rewards

Track sent Leads.

Track the status of leads and earnings on your dashboard

Withdraw Rewards.

Transfer Rewards directly to your bank account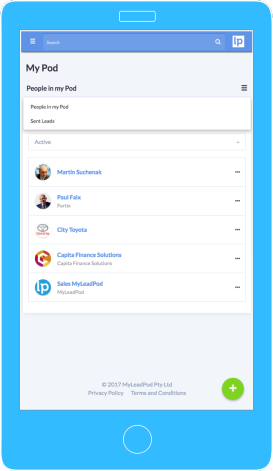 Receive Leads. Win new clients.

Motivate the public to send you leads in exchange for Cash Rewards

Communicate via Messages.

Reach out to the sender of the lead in our messaging system

Advertise via MarketPlace

Advertise your business services on MyLeadPod MarketPlace to reach a new audience
Companies using our app